I got done with LPMHS for the year yesterday, and am looking forward to a fun summer!
This morning Ben got up before 5am, and immediately started asking if we could go to his 10 o'clock playdate...
This playdate was set up by the mother of one of Ben's future classmates (whose name I've forgotten, a weakness that will likely be overlooked on judgement day as there were about a dozen kneebiters running around this morning, all of them virtually interchangeable). Grown-ups talked about the Lake Clear Elementary School and the likely upcoming attack (recent history has shown the LCES attack schedule to run on an 18 month cycle, so we're getting ready), the newish kindergarten teacher (some good stuff, some not so much), and about toy guns...
The kids had a great time, Ben and I made plans to get together again with some of the kids later in the summer, and when Ben almost grabbed a sandwich from one of the moms who brought her own food I knew it was time to go off in search of lunch...
Ben lobbied hard and effectively for McDonald's, but then changed his mind when I countered with Paula's Airport Cafe...the best/fanciest/quickest/most kid-friendly/only restaurant in the Adirondack Regional Airport (1.3 road-miles from our house to the short-term parking). We had an excellent meal; I had an excellent burrito that could have fed lesser men for a couple of days, and Ben had a grilled ham and cheese sandwich while we watched the clouds and some expensive private jets roll by outside...
Ben is now lying down, nearly unconscious, in front of "Curious George", a movie we acquired in Plattsburgh yesterday while shopping for a bigger life-preserver, assorted summer clothes, new sneakers, and shin-guards (the last 2 items for the Saranac Lake Youth Association Soccer funstravaganza on Monday and Wednesday evenings in July and August)...
I didn't take any pictures of Plattsburgh, the playdate, or Paula's...so here is a picture of my favorite really big rodent, the capybara...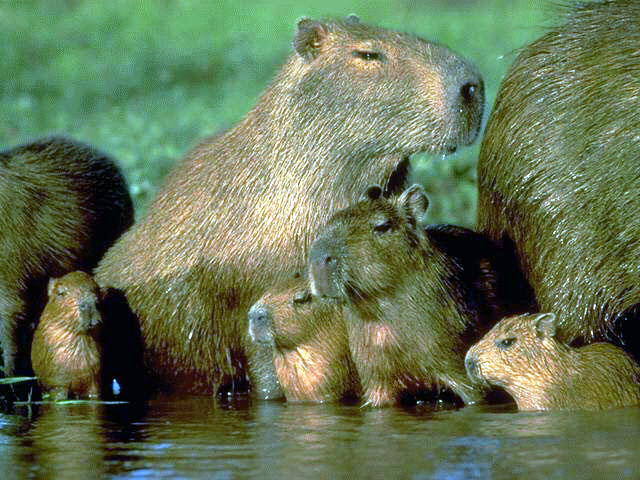 For those with a thirst for knowledge, please follow
this link
to learn about the capybara, including the details on how the Catholic Church declared this smug-looking beast, largest member of the rodent family, the theological equivalent of fish...for Fridays and Lent...